Buy God Of War: Ghost Of Sparta, Get Kratos' Brother Deimos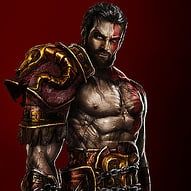 Purchasing God of War: Ghost of Sparta will earn you some bonus content for God of War III. Each copy of Ghost will have a download code for a Deimos skin in GoW3.
Deimos is Kratos' brother. For a proper introduction, check out the new trailer from Ghost below. In GoW3, the Deimos skin gives the player better damage lets them earn quadruple the normal amount of health, magic, and gold orbs.
Ghost will debut in North America on November 2nd. The UK and Ireland will receive it on the 5th, Australia and New Zealand get it the 4th, and the rest of the PAL regions can expect it on the 3rd.
Staff Writer at CinemaBlend.
Your Daily Blend of Entertainment News
Thank you for signing up to CinemaBlend. You will receive a verification email shortly.
There was a problem. Please refresh the page and try again.