CB Games Media Blowout: Stuntman Ignition, Director's Cut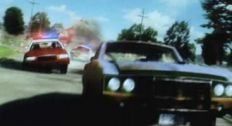 Well here it is, the final in this media blowout for Stuntman Ignition. THQ's latest in the Stuntman franchise is due out later in the summer for the Xbox 360 and PS3. But before you buckle down any cash on this game, we figured you might want an in-depth look at some of its features. In this post you'll find some multiplayer footage and a director's guide to stunt driving.
If the trailers you've seen already haven't convinced you that this game is cool, then all hope is lost. You might as well turn around now and let the door smack you on your way out. But if the trailers you've witnessed here at our media blowout have prompted your further curiosity and interest in this game, then we've done our job.
The following two trailers are nothing less than exciting. You'll witness break-neck multiplayer footage and a guide through the game's playing mechanics. And if I haven't said so enough already, Stuntman Ignition is due out on August 28th for the Xbox 360 and PlayStation 3, for the suggested retail price of $59.99. If you require further information or details regarding Stuntman Ignition, be sure to visit THQ's Official Website. Enjoy the trailers below.
Your Daily Blend of Entertainment News
Staff Writer at CinemaBlend.