Call Of Duty: Black Ops 3 Xbox 360 And PS3 Won't Get Season Pass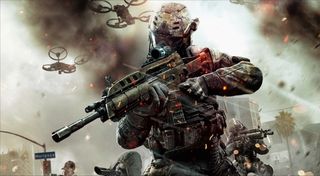 It seems like there's more news about what Call of Duty: Black Ops 3 won't have for the Xbox 360 and PS3 than what it will have. The latest news about the seventh generation version of the game is that it won't have a season pass available to those playing on the PS3 and Xbox 360.
Game Informer and Video Gamer picked up the news from a listing over on the Xbox Store (opens in new tab), where it notes that the season pass for Black Ops 3 and the zombie bonus map will not be available on the Xbox 360.
Video Gamer attempted to reach out to Activision to confirm that the season pass would not be offered for either the Xbox 360 or PS3, but at the time of them publishing the article they didn't receive a response.
This news wouldn't be too surprising given that the campaign mode is also missing from the Xbox 360 and PS3 versions of Black Ops 3. The campaign centers around a four-player cooperative experience and Treyarch was unable to whittle it down enough to make it doable on the old-gen consoles, so it was axed.
It would make complete sense if the season pass was also cut because it may have something to do with the campaign content. This is one of the first times where the campaign has received almost about as much focus as the competitive multiplayer mode. Instead of it just being a tacked on pew-pew-pew fest, this year's outing will see players customizing their character, acquiring skills and tactically adapting to a slightly more sandbox-style level layout.
If Treyarch is planning on releasing campaign content for Black Ops 3 through the season pass, then that would automatically void gamers on the Xbox 360 and PS3. In turn, it would make sense why a season pass wouldn't even be offered to seventh-gen gamers. Imagine paying $50 but half of the content is unavailable?
Of course, it's also safe to assume that the season pass contains plenty of competitive multiplayer and cooperative zombie content as well. The Xbox Store lists that the season pass will contain four DLC map packs in 2016, and that some of the maps included in the map will include re-imagined content from Call of Duty: World at War and Call of Duty: Black Ops, with the continuation of the original zombie story in "Der Riese". They don't specifically detail how many maps will be in each pack or if how they'll be arranged when released, but obviously some of the content is too big for the old-gen systems, such as "The Giant" map within the zombies campaign.
The general reaction from most gamers for news like this has been "duh". The Xbox 360 will be a decade old this year and the PS3 will be a decade old next year. It really is time to retire these systems and for companies like Activision to leave them behind for good. When they first launched they were ahead of the tech curve but now we have PCs that are literally powerful enough to emulate PS3 and Xbox 360 games via emulators. That lets you know just how far advanced tech is in today's society and how old both Sony and Microsoft's consoles are.
Call of Duty: Black Ops 3 is due for release on the Xbox 360, PS3, PS4, Xbox One and PC on November 6th, along with the season pass, which will presumably only be available for PS4, Xbox One and PC users.
Staff Writer at CinemaBlend.
Your Daily Blend of Entertainment News
Thank you for signing up to CinemaBlend. You will receive a verification email shortly.
There was a problem. Please refresh the page and try again.