Call Of Duty: World At War's Zombie Mode Was Almost Cut From The Game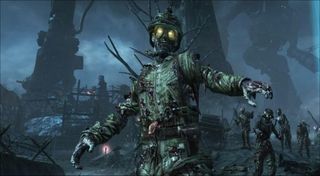 One of the most popular modes in all of Call of Duty is the zombie mode. The mode has transcended expectations and has carried over into multiple iterations of the highly popular first-person shooter. However, in a recent DICE talk from the Treyarch studio head, the zombie mode was close to not ever making it into the game.
PC Gamer does a brief write-up on Treyarch Studio's head honcho, Mark Lamia, laying down some truth bombs at DICE. Lamia explained how crunch time had put the team behind and how the mode contacting the zombies was nearly scrapped.
According to the PC Gamer article...
That's a very interesting story. We've heard multiple times about the cost of being behind schedule working on an AAA game. Every week a team is behind schedule the costs raise exponentially because the publisher now has to pay the team to keep working on a game beyond the allotted budget for the game. Hence, the release dates are setup so that there is a specific deadline in which the publisher has budgeted for the developers to complete the game, and if they go beyond that deadline... well, that's time and money and it could potentially affect the bottom line on the quarterly financial reports.
Activision took a risk letting Treyarch experiment with the zombie mode in Call of Duty: World at War because it turned out to be one of the most popular modes in a Call of Duty game.
In the bi-annual release cycle for Treyarch, they became known for including the zombie mode, including in the Call of Duty: Black Ops, Call of Duty: Black Ops 2 and the latest Call of Duty: Advanced Warfare. In fact, the modes garnered enough popularity that Treyarch and Activision even had various celebrities step into roles in the co-op modes, from Sara Michelle Gellar to Ray Liotta and even recently John Malkovich. Call of Duty: Advanced Warfare also starred Kevin Spacey, in case you forgot.
The zombie modes have evolved over time and the latest mode – the Exo-Zombie mode for Call of Duty: Advanced Warfare – adds an extra twist to the tried and true formula by making the zombies wear exo-suits that allow them to jump fire, run faster and bite harder.
According to Lamia...
PC Gamer surmises that Lamia is referring to the tried and true formula of the Call of Duty franchise and not tinkering too much with what works and how it works, but still finding ways to branch out and do something a little different every now and then. Given the sales of Call of Duty: Advanced Warfare and the rest of Treyarche's games, I guess it's safe to say that they didn't ruin the butterfly's wings.
Your Daily Blend of Entertainment News
Staff Writer at CinemaBlend.