Call Of Juarez: Bound In Blood Patch Fixes PS3 Load Times, Multiplayer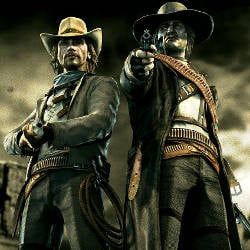 Today Ubisoft released a new patch for the Xbox 360 and PS3 editions of Call of Juarez: Bound in Blood. It cuts down on the checkpoint loading time for the PS3 version and makes a number of fixes to the game's multiplayer.
The patch is also said to "improve the quality of multiplayer connections" but no details were given on that. They did provide a detailed list of the class changes that will go into effect, though:
Spy: damage increased; health increased;
Gunslinger: recoil reduced; accuracy improved;
Hombre: recoil and reload time increased; damage at long range significantly reduced;
Veteran: health and accuracy decreased; additional pistols removed;
Sniper: no-scope accuracy and damage significantly reduced; health decreased; sidearm Ranger swapped for Classic Gun
Bound in Blood first hit stores this summer. You can read all about it in Blend Games' review.
Your Daily Blend of Entertainment News
Staff Writer at CinemaBlend.