Capcom Announces World Gone Sour, Based On Popular Candy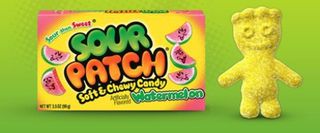 Based on the popular Sour Patch Kids, the new game World Gone Sour throws gamers into a puzzle-platforming game with the bite-sized heroes for the PS3 and Xbox 360.
The game will be a SEN/PSN and Xbox Live Arcade title, so you don't have to worry about laying down $60 to play as your favorite pieces of candy. I kid you not, this is a real game.
According to the press release...
Both versions of the game will offer local co-op so you and a friend can journey through life's obstacles in order to get the heroes to the palate of human being. And this time around, Capcom will ensure that the feature makes it into the Xbox 360 version this time around. There's even a special rap-track from artist Method Man with the single "World Gone Sour"...oh how the mighty have fallen.
You can look for World Gone Sour to land on the digital marketplaces for the Xbox Live Arcade starting April 11th for 400 MS Points, and the Sony Entertainment Network April 10th for $4.99. You can learn more about the game by paying a visit to the Capcom Unity page.
Image 1 of 6
Your Daily Blend of Entertainment News
Staff Writer at CinemaBlend.