Check Out Gamers' Sarcastic Response To GTA 5 Ban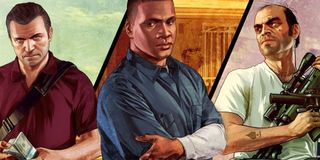 Target Australia removed Grand Theft Auto 5 from its stores because of an online petition complaining about the game. Now gamers have responded with a petition of their own.
The petition has a similar tone to the one that resulted in the GTA 5 ban. It expresses disappointment that Target would sell a product that promotes violence against women. The petition closes by asking the company to put "ethics before profits" and remove the product from store shelves?
The name of this product? The Bible.
"This book means that after various sex acts, readers are given options to kill women by stoning her unconscious, Setting them on fire, cutting off their hands, and killing their children!" reads the Change.org petition.
The petition then quotes Leviticus 21:9 to make its point: "One of many fan passages on In The Holy Bible depicts woman being set alight for having sex: 'And the daughter of any priest, if she profane herself by playing the whore, she profaneth her father: she shall be burnt with fire.'."
In case you don't understand who they're mocking with this petition, they crib some lines directly from the GTA 5 petition.
"Target, you pride yourself on being a family company, caring for local communities, and have a strong ethical sourcing policy. How can you do this while contributing to hostile and callous attitudes toward victims of violence and, more broadly, to all women?"
This Bible petition, in addition to breaking sarcasm meters across the world, racked up over 46,000 signatures so far. It also managed to get Target's attention:
The initial petition about GTA 5 was created on November 29th. A few days and 40,000 signatures later, Target Australia removed GTA 5 from 300 of its locations. Kmart Australia, owned by the same company, later followed suit.
"We've been speaking to many customers over recent days about the game, and there is a significant level of concern about the game's content," Target said of their decision. "We've also had customer feedback in support of us selling the game, and we respect their perspective on the issue. However, we feel the decision to stop selling GTA 5 is in line with the majority view of our customers."
The retailers' GTA 5 ban also prompted a counter-petition demanding the games' return to store shelves. That petition gained 21,000 signatures but Target hasn't shown any signs of budging.
Take-Two Interactive, parent company of Rockstar Games, expressed disappointment with Target and Kmart's ban. However, they haven't announced any further action.
Your Daily Blend of Entertainment News
Staff Writer at CinemaBlend.
Your Daily Blend of Entertainment News
Thank you for signing up to CinemaBlend. You will receive a verification email shortly.
There was a problem. Please refresh the page and try again.