Club Nintendo Shutting Down, New Loyalty Program Inbound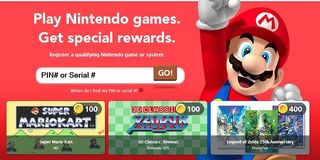 It's a bitter-sweet day for Club Nintendo members, as the Big N announces the closure of the rewards service that's been running for the past six years. Chin up, though, because a new rewards program is apparently just over the horizon.
For those unfamiliar with Club Nintendo, it's a system that allows customers to register their various Nintendo games and consoles, as well as take the occasional survey, in exchange for Coins. Those Coins can then be traded in for additional goods, including physical items featuring Nintendo properties or digital games.
According to the official announcement from Nintendo, folks in the United States and Canada can keep on earning Coins through the end of March. That's also the length of time you have to sign up for the old program, in case you've got a lot of games to register and figure you might as well cash in on some free goodies while the getting is good. From there, you'll have through the end of June to exchange your Coins for physical and digital items. No word yet on whether or not Elite Gifts will be available this year, typically an extra something-something passed out in June for folks who earned enough coins to reach Silver, Gold or Platinum status within the program.
The announcement goes on to state that additional physical and digital rewards will be added in the coming weeks, as well as a special gift for all Club Nintendo members: A copy of Flipnote Studio 3D (an updated version of the hit DSi title), free of charge. That extra gift, as well as new rewards, are expected sometime in February.
"We thank all Club Nintendo members for their dedication to Nintendo games and their ongoing love for our systems and characters," said Scott Moffitt, Executive VP of Sales and Marketing at Nintendo of America. "We want to make this time of transition as easy as possible for our loyal Club Nintendo members, so we are going to add dozens of new rewards and downloadable games to help members clean out their Coin balances."
That's good news, as I'm currently sitting on just shy of 1,000 Coins myself. Clicking around a few forums this morning, I saw quite a few people in similar situations, reaching as high as 4,000-plus coins to blow through.
A new loyalty program is due for announcement at some point in the future, so keep your eye out for new details on that.
As for the current rewards, you can grab a handful of physical items like a Zelda T-shirt or posters featuring art from Smash Bros. There's also a bunch of postcards with Nintendogs artwork, if that's your sort of thing.
Games include Super Mario Bros. 2 and Super Metroid for the Wii U and Wii respectively, as well as Super Mario Land and The Legend of Zelda for the 3DS, to name a few.
If nothing there grabs your interest, just hold tight. More stuff is on the way.
Staff Writer for CinemaBlend.
Your Daily Blend of Entertainment News
Thank you for signing up to CinemaBlend. You will receive a verification email shortly.
There was a problem. Please refresh the page and try again.