Complete Walkthrough Guide For Alan Wake's American Nightmare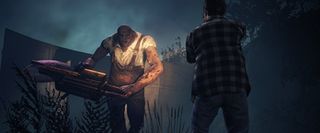 All right, so you bought Alan Wake's American Nightmare but now you find yourself getting stuck, not being able to find what you're looking for, or going in circles you didn't intend to go in. No probs, a complete walkthrough guide for the game has gone live and it's free.
XBLA Fans has up a complete, chapter-to-chapter walkthrough guide for gamers looking for a little heads-up on how to complete the game and where to uncover all the secrets, goodies and guns.
Of course, it's safe to say that the videos contain spoilers given that they walk you through the entire game. However, if you already played the game and would like some extra tips for a few items or bonuses you may have missed, the guide can totally help with that. If you haven't played the game yet but you still need a little heads-up on what to look for, you might want to check the guide out chapter-by-chapter as you play through the game.
For those of you curious as to whether you think Alan Wake's American Nightmare is worth the price of entry or not, be sure to check out our complete review for Alan Wake's American Nightmare right here at Gaming Blend. If you don't need any reviews and just want the video guides, be sure to check them out over at XBLA Fans.
Your Daily Blend of Entertainment News
Staff Writer at CinemaBlend.