Coolest Live-Action Trailer Of 2011: Call Of Duty Modern Warfare 3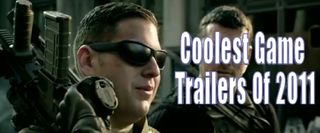 The final coolest game trailer award goes out to none other than Activision's mammoth annual first person franchise, Call of Duty: Modern Warfare 3. There was one live-action trailer this year that really went all out to capture the intensity, the fun and the camaraderie of competitive online shooters, and that's the n00b and the vet trailer for Call of Duty: Modern Warfare 3.
The trailer puts rising action star Sam Worthington in cahoots with popular comic-actor, Jonah Hill. The combination is a hilarious mix of comedy and action that has pitch-perfect timing and a smooth runtime of just under two minutes. The dynamic duo find themselves in a number of ridiculously over-the-top scenarios where Hill, playing as the noob, is constantly botching kills and nearly getting himself killed, where-as Worthington is playing it cool as a veteran in all things combat.
There's not much else to say about the trailer other than that Dwight Howard makes a quick appearance at the very end to show off his noobtubing skills, officially making him a noob. And I'm pretty sure there was a hefty amount of money tossed into the production of the trailer given all the snazzy special effects, but given Call of Duty's annual billion-dollar income, I don't think money was too much of a problem for Activision.
Whether you like Call of Duty or not doesn't really matter, but you have to admit that this comical take on the veteran and the newbie is pretty cool and that's probably why it tops this year's live-action category as the coolest live-action trailer of the year.
Staff Writer at CinemaBlend.
Your Daily Blend of Entertainment News
Thank you for signing up to CinemaBlend. You will receive a verification email shortly.
There was a problem. Please refresh the page and try again.