Could Led Zeppelin Finally Be Coming To Rock Band? Here's What The Dev Says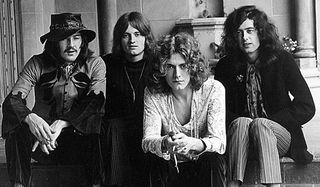 According to the folks at Harmonix, the Rock Band team is still hard at work trying to nail down rights to some of modern music's biggest names. Much to the delight of rockers everywhere, the game's set list may one day include the likes of Led Zeppelin, for example.
This news comes to us via Gamespot, who was on hand during the Rock Band
This latest buzz comes to us thanks to Harmonix social lead Josh Harrison, who told a fan during the Q&A session to "never give up hope" when he asked if bands like Pink Floyd and Led Zeppelin might someday be on the roster. Licensing is a tricky business, after all, and some of the industry's biggest names just so happen to have the most difficult jungle of red tape to claw through. If you've ever wanted to rock out to "Stairway to Heaven," "Kashmir" or "Whola Lotta Love," though, apparently there's always a chance that things will work out.
Following his encouraging comments, Harrison reminded those in attendance that Harmonix worked long and hard to secure the rights to music from The Beatles and, in the end, The Beatles: Rock Band was the result. While a game focused on the likes of Zeppelin or Pink Floyd wouldn't be something to scoff at, we expect most folks would prefer to see some of those bands' greatest hits simply added to the track list of a game they already own. Then again, it's known that Harmonix had prototypes of similar games made for Led Zeppelin and Pink Floyd versions of Rock Band back in 2013, so who knows?
At this point, we'd love to hear a more thorough breakdown of what typically holds up this kind of process. From the outside looking in, it seems like an easy win-win for whomever owns the rights to, say, the Led Zeppelin catalog. Not only would fans need to buy all of those rockin' new tracks, said fans would also likely start buying up Zeppelin singles and albums to listen to when they're away from the game. It's a fact that games like Rock Band and Guitar Hero have the ability to turn a whole new generation onto bands or songs, so we've got to assume that a deal with Harmonix would only mean money in the bank for those who stand to gain from such an agreement.
There's also the fact that pretty much every band in the history of time has made its way to Rock Band at this point. It just seems odd that legendary groups like Pink Floyd and Led Zeppelin would be missing from this celebration of sound, especially since both groups have a rich library of songs that gamers would love to fake-play in front of a pretend audience with their friends. Keep your fingers crossed, I guess.
Your Daily Blend of Entertainment News
Staff Writer for CinemaBlend.
Your Daily Blend of Entertainment News
Thank you for signing up to CinemaBlend. You will receive a verification email shortly.
There was a problem. Please refresh the page and try again.