Crysis 3 Screenshots Explore NYC Nanodome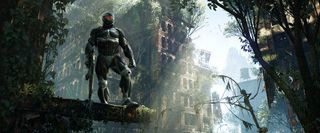 Crysis 3, like Crysis 2, will take place in New York City. However, New York has changed quite a bit since the last game. A new batch of screenshots for C3 show off the dramatic transformatic the city has undergone.
In Crysis 3, the Cell Corporation has created encases cities around the globe in giant nanodomes. Prophet, a super soldier with an advanced nanosuit, travels to the New York City Liberty Dome. The dome has turned NYC into a massive rainforest. You can still see the remnants of the city itself underneath the vegetation, though, making the environments an interesting mix of urban sprawl and nature.
"All of the assets have been created from the ground-up. There is nothing left of the New York you saw in Crysis 2. As you saw in the demo, there's no resemblance to what we did before," Crytek's director of creative development Rasmus Hojengaard said in a recent interview.
Though the Cell Corporation said that the domes were designed to protect the population. However, their motives turn out to be much more sinister. The domes are crawling with Cell forces as well as the mysterious alien race known as the Ceph. Luckily Prophet will have some new weapons at his disposal, including a composite bow with various attachments.
Crysis 3 is due next spring on the PS3, Xbox 360 and PC.
Staff Writer at CinemaBlend.
Your Daily Blend of Entertainment News
Thank you for signing up to CinemaBlend. You will receive a verification email shortly.
There was a problem. Please refresh the page and try again.