DC Universe Online Server Merges Begin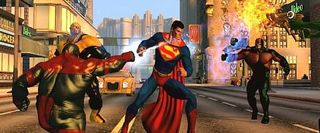 Today Sony Online Entertainment began the process of consolidating the player population for DC Universe Online. Over the course of this week, they'll be moving players on the game's 26 servers to four MegaServers.
The four MegaServers are arranged by platform and territory: Europe PS3, Europe PC, United States PC, United States PS3. The MegaServer conversion process will make the game unplayable for 10-14 hours. Here's the schedule for the server merging:
EU PC - 8/8/2011 - 8:00AM PT/5:00PM CET
US PC - 8/10/2011 - 8:00AM PT/5:00PM CET
US PS3 - 8/11/2011 - 8:00AM PT/5:00PM CET
EU PS3 - 8/15/2011 - 8:00AM PT/5:00PM CET
One issue they'll run into with these mergers is that characters and Leagues with the same name will now be on the same server. SOE said they've used the "fairest system" to determine which League or player will be able to keep their original name and who will have to change. If you're being asked to change your character/League name, you'll be provided with a free Name Change Token to do so.
MegaServers will be organized into PvE and PvP phases. There may be multiple PvE and PvP phases on a server at any given time; there will always be a minimum of one each. Splitting up the server in this fashion means that the shared areas of the game won't be overcrowded. You can switch between phases at the Hall of Doom or Watchtower.
While server mergers are usually taken as a sign that an MMO is underpopulated, SOE is touting this as a happy occasion. They say that players will now have more companions for Alerts, Duos, Raids and other activities. There will also be more items to buy on the Broker.
Staff Writer at CinemaBlend.
Your Daily Blend of Entertainment News
Thank you for signing up to CinemaBlend. You will receive a verification email shortly.
There was a problem. Please refresh the page and try again.