DOOM Gameplay Video Is Full Of Gory Deathmatch Action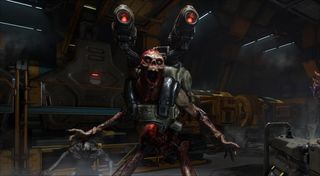 There's some brand new gameplay footage up and available of what Doom's limited, closed alpha stress test will feature and how the multiplayer gameplay looks in real-time. It's only three minutes of gameplay but it's a very satisfying three minutes.
The footage was posted up on Bethesda Softwork's YouTube channel and you can see for yourself with the video below.
As is usual, there's a huge fallout over Fallout 4 in the comment section. The Doom fanboys are angry that Bethesda's videos keep getting hijacked by Fallout fanboys, and there's this huge argument over that.
I absolutely am curious to know what Bethesda thinks about that? That one of their properties is so popular that no matter what video they upload of another game you have fans clamoring for more Fallout 4 content? I imagine shareholders see that kind of fandom and see nothing but dollar signs.
But getting back to Doom... the game looks great. The action looks satisfying and the content seems reminiscent of the old-school classics. There is one consistent complaint from the Doom fanboys that popped up constantly in the comment section: the speed.
There are a lot of comments that Doom needs to be faster like Quake 3. Most don't expect it to be as fast as the original Doom, where the Doom Guy was running around about as fast as a Corvette with a turbo booster, but they do hope for the game to be faster.
There are two things worth mentioning in regards to the footage showcased above and the topic of speed:
First up, the multiplayer of Doom is completely transitional with the single-player. It was mentioned by id Software that the single-player and multiplayer are one and the same, very similar to how Doom 1 and Doom 2 were designed. So the speed from single-player is the same speed you're seeing in multiplayer. This keeps the game feeling consistent from one mode to the next, whether you're doing competitive PvP or cooperative PvE.
Second, there are a lot of modifiers made available for the game's multiplayer modes. It might not be too far fetched to believe that movement speed modifiers might actually be made available in the reboot of Doom. If movement speed modifiers are available in multiplayer, then that scratches that complaint off the board.
Doom's upcoming alpha test will only feature a single map and some of the weapons in the game. A lot of customization features and other forms of content are completely off the table right now because id Software wants to test the networking infrastructure and the multiplayer synching.
Only a select few will be able to participate in the alpha test but hopefully we'll get a beta before launch. Doom is due for release in the spring of 2016 for the Xbox One, PS4 and PC.
Staff Writer at CinemaBlend.
Your Daily Blend of Entertainment News
Thank you for signing up to CinemaBlend. You will receive a verification email shortly.
There was a problem. Please refresh the page and try again.