DOOM's Open Beta Is Available To Play For A Limited Time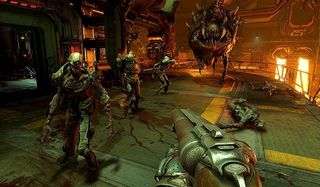 The DOOM open beta has finally gone live across all platforms, meaning folks looking to "fight like hell" can do exactly that, but only for the next couple of days.
The DOOM open beta goes live today, April 15, and will only be open on the PlayStation 4, Xbox One and Steam through this Sunday, April 17. That means you've got just 48 hours to get in, frag some fools and get out. After that, you'll have to wait until DOOM celebrates a full launch on May 13 to get your demon-slaying fix.
Unlike the recent DOOM closed beta, absolutely anyone can jump into this weekend's event, no codes, pre-orders or anything like that necessary. Just download the beta client and get to shooting.
As for what FPS fans can expect out of the beta, you'll enjoy two different competitive multiplayer modes that pit teams of six against one another, including Team Deathmatch and Warpath. The maps available in this beta will be Heatwave and Infernal, just like in the closed beta.
Both of these modes also feature the Demon Runes folks have been talking about, which turns the player who grabs them into a terrifying monstrosity. You'll become a Revenant that enjoys extra health and a rocket launcher that will turn your opponents into tiny little giblets.
If you've got any additional questions concerning the beta, the DOOM team has set up a handy little FAQ on the game's official website. It'll fill you in on details about recommended PC system specs for the beta, concerns with streaming beta content, download steps for each platform and ways players can provide feedback on their DOOM beta experience.
If, however, you'd like to gain a little edge over the competition while the DOOM beta is downloading, then PlayStation Social Media Senior Manager Sid Shuman's recent coverage on the PlayStation Blog should be right up your alley. It provides a rundown of the beta's seven main weapons, including the heavy machinegun, super shotgun (memories!), plasma rifle, rocket launcher, static rifle, vortex rifle and lightning gun.
DOOM bears a lot of similarities to older games in the series, but players will be faster, more agile and deadlier than ever this time around. You won't be bolted to the floor while trying to fight demons, in other words.
Also, these guns may behave a bit differently from what you remember in past DOOM games, so a quick rundown on what you can expect certainly won't hurt your chances of surviving the weekend's multiplayer beta.
Staff Writer for CinemaBlend.
Your Daily Blend of Entertainment News
Thank you for signing up to CinemaBlend. You will receive a verification email shortly.
There was a problem. Please refresh the page and try again.