Dark Sector Banned In Australia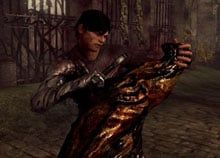 The upcoming third person action game Dark Sector just received a banning from Australia. It looks like our friends down under won't be throwing their glaive through flames and flesh any time soon. The game was determined to be too "violent, gruesome and sinister" for gamers in Australia. Which I'd like to think means the game will kick ass, but Manhunt 2 met similar fates around the world and that turned out to be a steaming pile of dog vomit.
The OFLC, Australia's version of the ESRB, claims that the violence in the game is far too realistic. It isn't stylized at all, and the ability to bring about violence is easy to do. Essentially it just got too real for Dark Sector, which is ironically a positive claim when coming from the gaming press. At least as a general reference to quality of visuals and content. Now that strive for realism is coming back to bite developer Digital Extremes.
AFA Interactive, who distributes the game in Australia, told IGN that, "This is (hopefully) not the end of the line for the game however, just a pretty substantial, but temporary, set-back".
Staff Writer at CinemaBlend.
Your Daily Blend of Entertainment News
Thank you for signing up to CinemaBlend. You will receive a verification email shortly.
There was a problem. Please refresh the page and try again.