Dark Souls Boss Fights Revealed In All Saints Trailer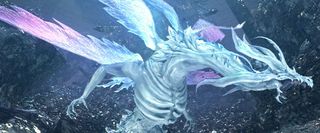 With Dark Souls' release mere days away, Namco Bandi has released another trailer for the action RPG. This latest video focuses on the boss battles players will encounter.
Like spiritual predecessor Demon's Souls, Dark Souls will feature some extremely huge boss fights. A giant spider, a dragon, and an axe-wielding colossus are some of the foes seen here in the trailer. You'll notice the player dying a lot in the video - that'll happen to you plenty, too. Demon's was known for its steep learning curve and Dark is said to be cut from the same cloth.
In Dark Souls, players travel to the Northern Realms to find a cure for a plague. Gameplay is a mixture of open-world exploration and dungeon-crawling. Monsters aren't the only hazard; traps and other players can both hinder your quest.
Dark Souls will hit the PS3 and Xbox 360 on October 4th in North America and on the 7th in Europe.
Staff Writer at CinemaBlend.
Your Daily Blend of Entertainment News
Thank you for signing up to CinemaBlend. You will receive a verification email shortly.
There was a problem. Please refresh the page and try again.