DarkSiders II Trailer: What Starts With War Ends With Death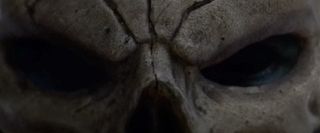 THQ and Vigil Games released a new promotional trailer for DarkSiders II. The trailer isn't flashy or over-the-top, nor is it action-packed or glistening with the latest in special effects. Instead, the new trailer is very somber and foreboding, a perfect way to characterize the protagonist, Death.
The trailer is very well done, because even without all the glitz and glam that some other trailers revert to in order to sell the idea or concept of a game, Vigil's DarkSiders II (for now) doesn't need all of that to convince gamers that Death is one bad, bad, bad, mofo and you do not want to step into his dojo.
The steady pan over Death's scythe and gear was pretty awesome. I wasn't all too thrilled about him opening his eyes, though. A lot of the cool factor just kind of flew out the window once his eyes opened.
Still, the game itself features all the intensity and action that Vigil brought to the table in the 2010 sleeper hit, DarkSiders, where players got a first hand look at what a pre-empted apocalypse would look like from the perspective of the Horseman, War. This time around the story tells the tale of Death and his little adventure during the universe falling apart.
You can look for DarkSiders II to land on store shelves and digital e-tailers in 2012 for the Xbox 360, PS3 and PC. To learn more about the game feel free to visit the Official Website.
Staff Writer at CinemaBlend.
Your Daily Blend of Entertainment News
Thank you for signing up to CinemaBlend. You will receive a verification email shortly.
There was a problem. Please refresh the page and try again.