Darksiders Shows How To Turn A Bad Guy Into A Hero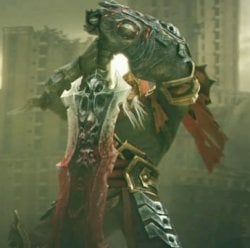 Vigil Games has gone over and beyond to simply work on one of the most artistically creative video games ever to be produced for the Xbox 360 and PS3. At first, this game looked like another God of War clone but now it appears to be coming into its own with indomitable qualities. The latest trailer released by THQ focuses on how War shows off his hero side. This trailer also managed to get itself nominated as one of the coolest game trailers of the year.
Speaking of coolest game trailers of the year, this year has some amazing nominees that will make it extremely hard to pick the top 10. Nevertheless, Darksiders has cemented itself amongst the top picks with its post-apocalyptic, graphic-novel art-style and ever-so-appealing color palette. That's not to mention that the animations and story concepts make it one of the most noteworthy titles to keep track of for the year.
The "Hero" trailer basically shows War making use of his weapons and we finally get to see his flaming steed as it barrels through a desolate city, leaving fire in its wake. Awesome stuff, that's all I have to say. You can check out the new trailer below or visit the Official Website for more information on the game. As always, be sure to stay tuned in with Blend Games for further news and updates regarding all things gaming.
Staff Writer at CinemaBlend.
Your Daily Blend of Entertainment News
Thank you for signing up to CinemaBlend. You will receive a verification email shortly.
There was a problem. Please refresh the page and try again.