Dead Island Ryder White DLC Lets You Be A Villain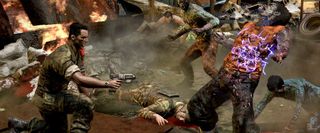 Deep Silver announced a new downloadable content pack for Dead Island today. The latest DLC will introduce an all-new single-player campaign starring Ryder White, the Banoi Island Defense Force commander and antagonist of the main campaign.
The Ryder White DLC campaign lets you experience the events on the zombie-infested island of Banoi from his perspective. The campaign is said to have several hours of gameplay. It will also add new weapon blueprints.
"I always like to think of antagonist characters not as evil, but simply….misunderstood," said Deep Silver's Aubrey Norris. "Ryder White was obviously suffering from a massive case of beast mood in Dead Island, and I think it's only fair we got to learn his side of the story."
Dead Island, released last fall, is an open-world action game. Banoi's population has turned into zombies and a small group of survivors must find a way to escape. Guns are scarce so you'll often have to rely on makeshift melee weapons.
The Ryder White DLC will be released on January 31st on the PS3 and on February 1st on the PC and Xbox 360. It will cost $10 (or 800 MS Points) to download.
Image 1 of 3
Image 2 of 3
Image 3 of 3
Staff Writer at CinemaBlend.