Dead Island: Zombie Paradise Screenshots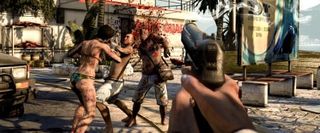 Dead Island was the real talk of the town a few months ago. The game may have lost some steam in the media circuit after the release of the startling cinematic trailer, but Techland and Deep Silver seem to be back on the marketing road with some brand new screenshots depicting a headshot-explosion and a snazzy shot of a baseball meeting a zombie's face at full swing.
The one thing that we never really seen before of the game was combat, and I'm glad we're finally getting a taste of what the combat will at least look like in Dead Island. Based on the new screenshots it definitely looks promising but screenshots tell a different story than gameplay trailers, and we'll only truly be able to tell what the game is like until we get our hands on some lengthy gameplay trailers.
You can check out the new shots for Dead Island below. The game is set for release on the Xbox 360 and PS3. A movie deal is also in the works. You can learn more by visiting the Official Website.
Image 1 of 5