Defiance Sending Players To Alcatraz In Next Update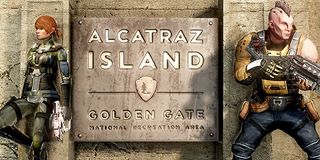 The third season of Defiance will launch on Syfy in a couple of months, which means it's nearly time for the MMO shooter set in the same universe to update, too. Hopefully you've got a good breakout plan, because Defiance is about to send all Arc Hunters to Alcatraz.
Trion Worlds today announced that Alcatraz will be the next expansion for Defiance, a unique free-to-play online game for consoles and PC that actually ties in to the identically named television show. In brief, events that happen in the game are frequently carried over into the show and vice versa. Similarly, regular events may occur within the show and, depending on how the community handles them, the show's plot might take a twist accordingly.
With the third season of Defiance set to air on Syfy come June 12, Trion Worlds has announced that the game universe is due for its latest expansion a week or so prior. That's a pretty good indicator that something in the show will be built off of what happens in the game during that small window of time. A character may leave the game's storyline, for instance, and then pop up in one of the early episodes of the show. Or maybe the location itself will be mentioned in the show.
According to today's announcement, the Alcatraz update will "see Arc Hunters migrating west in search of a new beacon of salvation." That search will inevitably lead them to the former prison perhaps better known as The Rock. And what will they find there? New gear, new systems, new modes and, of course, new missions that will require a lot of shooting.
So, on top of adventuring around the surface of the infamous prison, it looks like players will be able to delve underground in new "Expeditions." Based on the promise of never-ending content, my guess is that there will be some sort of randomly generated aspect to these cooperative hunts, pitting Arc Hunters against all manner of enemies. The deeper you go, the tougher the enemies get, but that also means your loot will be that much better.
Also being added in the Alcatraz update are "Cyber Rigs," with will let players further augment their characters, weapons, shields and upgrades. That basically boils down to more customization options than ever, meaning you'll be able to better tailor your toon to your personal play style.
As mentioned above, Defiance is now a free-to-play game on the PlayStation 3, Xbox 360 and PC. Originally, this MMO shooter simply required players to purchase a disc, similar to what is being done with the console version of Elder Scrolls Online. Now, though, you can download it at no cost from the get-go, then fork over a few dollars here and there if specialized classes, gear and the like catch your eye.
Your Daily Blend of Entertainment News
Staff Writer for CinemaBlend.