Destiny Delayed For Call Of Duty, Says Analyst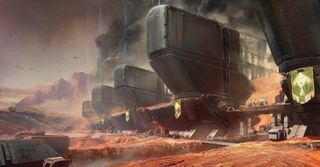 Bungie's new game Destiny won't be arriving this year, according to publisher Activision's announcement yesterday. Sterne Agee analyst Arvind Bhatia believes that the Activision wants to make sure that the game isn't directly competing with the next Call of Duty.
"We believe Destiny will likely launch sufficiently away from the next Call of Duty to minimize cannibalization," wrote Bhatia in his latest report on Activision-Blizzard. When contacted by Gaming Blend, Bhatia confirmed that waiting until 2014 to release Destiny was a decision driven, at least partly, by sales concerns.
"They will be smart about the timing so as not to cannibalize CoD sales."
Activision releases Call of Duty games on an annual basis each fall. This is already a crowded release window, filled with many high-profile titles from other publishers. It makes sense that Activision wouldn't want to compete with itself by releasing another high-profile shooter close to the next COD's launch. It could cause gamers to buy one or the other, rather than both. That's not a trivial concern, considering how huge of a franchise Call of Duty is and how big of a franchise Destiny could be.
Still, was Destiny pushed to 2014 solely to avoid stepping on Call of Duty's sales? The impression that I got from Bungie's big reveal this weekend is that the game's still got a long ways to go until completion. All they showed off was a batch of concept art and a sliver of gameplay footage.
Destiny, the first game from Bungie since they stopped working on the Halo series, is set hundreds of years in the future. Players take on the role of Earth's guardians, traveling to alien worlds to fight hostile alien races. The game is said to have an MMO-like structure, with opportunities for both competitive and cooperative play. In spite of Destiny's massively multiplayer scope, Bhatia believes that there will be no subscription fee. His opinion echoes the reports from Bungie's press event this weekend.
Even though it won't be charging players a monthly fee, Bhatia says Destiny that it will be a very lucrative franchise for Activision. It might even be as big as Call of Duty in time.
"Yes," he said when asked if the franchise could grow to COD-like proportions. "It could be a billion dollar franchise."
Destiny is in development for current-gen and next-generation consoles. A release on PC is less certain but possible.
Your Daily Blend of Entertainment News
Staff Writer at CinemaBlend.
Your Daily Blend of Entertainment News
Thank you for signing up to CinemaBlend. You will receive a verification email shortly.
There was a problem. Please refresh the page and try again.