Destiny Developers Apologize For Sleeper Simulant Quest Line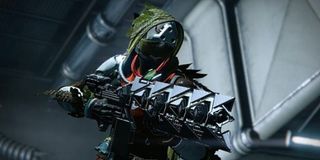 Yesterday Destiny added a mysterious quest line to get a new weapon called the Sleeper Simulant. Not every player was happy about it, though.
The long journey to get the Sleeper Simulant started with a story mission, The First Firewall, that popped up on Wednesday. This mission tasked players with killing a bunch of Taken and recovering an item called a Curious Transceiver.
After solving a puzzle, the transceiver will activate and send you on another mission, Shadow Call. This quest is a timed platforming challenge and gives the player another weird doodad: the Ikelos Fusion Core. This item also contains a puzzle to figure out. Once the player solves the puzzle, they can give the Core to the Gunsmith.
No, that's not it. The player then has to tackle a harder version of the Fallen S.A.B.E.R. Strike on Earth. Their reward is a Sleeper Simulant Weapon Frame, which players bring to the Gunsmith to finally get the weapon.
There's a lot to like about this quest line. It's much more fun to earn a weapon through story missions rather than random drops or grinds. Plus, the Sleeper Simulant is a pretty cool reward. It's a fusion rifle that can fire a strong, single shot that ricochets up to five times when upgraded. Here's some footage of the weapon in action:
However, players really weren't happy with how this quest line was rolled out. The First Firewall and the rest of the quest line was only available for players who had turned in four fusion rifle relics to Gunsmith by the 7th. Everyone else is missing out - for now, anyway:
The time limit on the quest line led to a lot of complaints. In the latest Weekly Update from Bungie, design lead Tyson Green says that the team will try to provide more information for future events like this:
While there are things Bungie could have done better in executing this quest. Still, I think special events like this are a great addition to the game. I hope the development team introduces several more in the Taken King era.
Staff Writer at CinemaBlend.
Your Daily Blend of Entertainment News
Thank you for signing up to CinemaBlend. You will receive a verification email shortly.
There was a problem. Please refresh the page and try again.