Destiny The Taken King: Everything You Need To Know About The Third Expansion Pack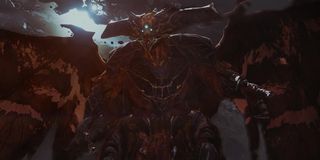 Bungie has announced The Taken King, the rumored third expansion pack for Destiny. They shared a trailer and loads of details on the biggest add-on yet for the multiplayer shooter.
The Taken King, coming on September 15th as rumored, continues the storyline started in Destiny's first expansion The Dark Below. Players killed the Hive deity Crota in that DLC and now have to contend with his father Oryx, the titular "Taken King." He's supposedly the creator of all Hive.
"Oryx wields the ability to control a twisted army of vile corruptions known as the Taken," Bungie says. "These new enemies have been wholly consumed and possessed by the Darkness, bodies and mind twisted into service of their King. Now, they are bent to a singular purpose - our eradication."
Players will travel to Oryx's giant ship in the rings of Saturn to combat this threat. Players will have several new story missions to tackle along with multiple co-op Strikes. The expansion will culminate in a new Raid, the first to be added to the game since Crota's End.
While fighting Oryx and the Taken, players will earn new armor and weapons for their characters. They'll also get access to three new subclasses. Hunters can become Nightstalkers, allowing them to create and fire a bow made of void energy. The new Warlock subclass, Stormcaller, can call down an electric storm on foes. Sunbreaker Titans are able to summon a flaming hammer that can be used as a ranged or melee weapon.
The Expansion Pass for Destiny only grants access to House of Wolves and Dark Below. As a result, you'll need to buy The Taken King separately. It's priced at $40, or twice as much as past DLC packs. Buying the expansion at launch will earn you a Sparrow, armor shader and Year 1 Emblem.
Bungie is also bundling The Taken King and the other expansions with Destiny for a new "Legendary Edition" of the game. The $59.99 Legendary Edition will debut in stores on The Taken King's launch day.
Really hardcore players, meanwhile, can opt for the $79.99 Destiny: The Taken King Collector's Edition. This bundle comes with everything in the Legendary Edition as well as a SteelBook case. An "Intel Cache" inside the Collector's Edition includes the following physical extras:
Modified Treasure Island Book with intro Letter from Cayde-6
Cayde-6's Personal Notes and Illustrations
Collection of Relics and Artifacts
Strange Coin Replica
The Collector's Edition also gives you in-game items. You'll get a new emote for each class as well as a class item that provides XP bonuses. Bungie is also throwing in three shaders and early access to three weapons. These weapons can't be earned in the game otherwise until January 1st, 2016.
Image 1 of 3