Destiny's New Exotic Necrochasm Isn't Worth The Effort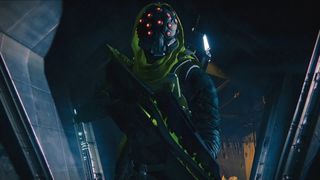 Destiny players are putting a lot of time and effort into acquiring the new Exotic auto rifle Necrochasm. That's unfortunate because the weapon's not worth it.
The video review from Planet Destiny breaks down all of the pros and cons of the Necrochasm. On the positive side, it has the highest attack rating of the game with 339. In spite of its high rate-of-fire, it's still accurate at medium range thanks in part of the Rangefinder upgrade. Reloads are quick and can be shortened every further with melee attacks thanks to the Cascade perk and the Flared Magwell upgrade. On top of all that, it's the only assault rifle with arc damage and comes with many perks unlocked right at the outset.
However, the weapon has some serious downsides as well. Its low magazine size and low impact (damage per round) mean that you'll need over a magazine to kill a tier 2 enemy. In PvP, you can only get two kills with a magazine if you're extremely accurate.
The Necrochasm's collection of perks kind of suck, too. One of its major selling points is supposed to be Cursebringer, which causes Cursed Thralls to blow up when you kill them with a precision shot. However, it's hard to get precision kills due to the rate of fire. Even if you do, the explosion only happens around 75% of the time, seems to be delayed, and has a small damage radius.
The time investment required to get the gun is absurd, too. First, you need to get a Husk of the Pit auto rifle off a Blade of Crota on Earth or the Moon and then fully upgrade it. Then you have to change the weapon into the Legendary Eidolon Ally by purchasing an Embalming Orb from Eris Morn after you hit Reputation 3 with her. After that, you have to fully deck out your Eidolon Ally before you can even consider getting Necrochasm.
You're still not done, though. You then have to get an item called Crux of Crota by finishing the Crota's End raid on hard mode. Planet Destiny says you can only get this item by skipping hard mode and beating normal first. Furthermore, you need to own the Glowhoo Shader, another drop from Crota's End hard mode. The Crux of Crota isn't a guaranteed drop so you may need to beat Crota's End hard mode multiple times to get it. That's a hell of a grind to get an auto rifle that's only decent at best.
"The perks on the Necrochasm just don't feel exotic; it's hardly better than an Eidolon Ally. Cascade will help in a few instances, Cursebringer will only help in pve, and the rest just don't make the weapon powerful enough to warrant practical use," the review concludes.
Odds are you won't be using it all that long, either. Second expansion pack The House of Wolves is supposedly coming in March and will bring even more powerful guns. Necrochasm, like Vex Mythoclast, likely won't get attack damage buffs to be competitive with these new additions. It'll be a relic taking up space in your Vault. Granted, we might have plenty more Vault space soon but I think players expect more than a souvenir for all the hard work they've put into The Dark Below's content.
Staff Writer at CinemaBlend.
Your Daily Blend of Entertainment News
Thank you for signing up to CinemaBlend. You will receive a verification email shortly.
There was a problem. Please refresh the page and try again.