Destiny Crota's End Hard Mode Launches Today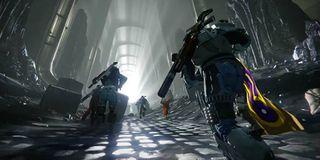 Destiny players will have a new challenge to tackle today. Bungie plans to implement the hard mode for 6-player raid Crota's End.
The exact launch time for Crota's End hard mode is unclear. Bungie simply says that you should watch for updates on their Twitter account. The first announcements will come at 10 AM Pacific (1 PM Eastern). If you want to get to the raid as quickly as possible, they suggest waiting at the login screen for Destiny and then signing in after hard mode is released.
Bungie's been cagey about the differences between the normal and heroic versions of Crota's End. They've revealed the fantastic loot you can earn but they haven't said anything about how the encounters will differ on a higher difficulty. The only concrete thing we know is that hard mode is level 33, as opposed to 30 for normal mode.
"I can't give you a playbook for how to end Crota this time. You don't need my help, anyway," said Bungie's David Dague in the most recent Weekly Update. "If you've experienced Hard Mode in Vault of Glass, you have some clues for how we can scale up a Raid. Prepare to take better care of your teammates. You'll have fewer options for healing yourself, and each other. The enemies you're about to face are stronger and more prone to temper tantrums. Be brave!"
Dague also mentioned that they'll be watching players race to beat Crota's End hard mode first. They "might even send the World First finishers some swag from the Bungie Store."
The normal mode of Crota's End was beaten 6 hours after release. Invigorate Gaming was the team who grabbed the world first. They're the ones who managed to beat Vault of Glass hard mode before anyone else too so they'll probably be among the teams racing for world first today.
To get ready for Crota's End hard mode, Bungie deployed a small hotfix for Destiny. This update fixed two issues with the raid. Players will no longer be able to de-spawn enemies on the bridge by activating plates and then holding a specific spot. Crota's occasional tendency to stop summoning Oversouls has been patched out too.
Crota's End is the second raid introduced to Destiny. Players will descend far below the Moon's surface to battle a Hive god and their minions. A few exploits allowed players to dominate the raid, sometimes on their own, but many of these issues have been patched by now.
Bungie introduced Crota's End in The Dark Below expansion pack. The expansion also included new Crucible maps, a co-op strike, and story missions. It's one of several premium add-ons planned for the game.
Staff Writer at CinemaBlend.
Your Daily Blend of Entertainment News
Thank you for signing up to CinemaBlend. You will receive a verification email shortly.
There was a problem. Please refresh the page and try again.