Destiny Player Gets Touching Gift From Bungie Following Brain Surgery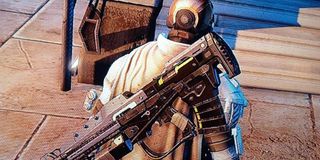 Only one Destiny player in the world has the rifle Fate of All Fools. The gun was given to him by the development team this morning.
The player in question, Eric, has undergone seven brain surgeries in the past 11 months, according to a Reddit post by his wife yesterday.
"We knew in advance his memory would be heavily effected, and it has been," she said. "For a while he didn't know me, and he only sometimes knew who he was. Right as he was starting to have things back together, he developed an infection. I spent the first week of Queens Wrath playing on a Vita in his hospital room, while he had two more surgeries to remove infected matter and give him a titanium plate-- a goodly sized piece of his skull was too infected to try and save. No worries there, he thinks having a titanium plate is awesome."
Eric mentioned to his neurologist that he was looking forward to playing Destiny once the surgeries were done. His doctor, surprisingly enough, recommended the game as a way to help him recover from the surgeries.
"It's been a little over a week, and the games effect on him has been so strong. Weak for months, he is flourishing in more than just the game world. He has been going out more, doing chores, making jokes. The effect of playing the game on his mood has been almost staggering."
She mentioned that Eric's been having difficulties with the game's first raid, Vault of Glass. In response, many players on /r/destinythegame offered to join him on a Vault run. The couple was also contacted by Bungie community manager David Dague, who informed them that a care package was waiting for him in Destiny.
The gift was Fate of All Fools, a gun that isn't otherwise available in the game yet. It's an Exotic scout rifle that causes Solar damage. Successful body shots with the weapon increase the damage of headshots. Its stability increases as you deal damage as well. The gun will presumably be released to other players in the near future, either through a public event or the first expansion pack.
"Vision of Confluence had been my husbands dream weapon, as scout is his favorite and he wanted that solar damage," Eric's wife said in her follow-up Reddit post today. "A more perfect weapon could not have been chosen. I'm so jealous, but mostly so damn happy for him. As for him-- well, you can imagine."
Staff Writer at CinemaBlend.