Diablo 3 PS4, PS3 Versions Confirmed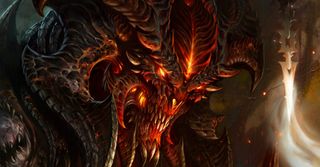 Blizzard Entertainment's action RPG Diablo 3 is coming to consoles. During the PlayStation 4 press event tonight, Blizzard's Chris Metzen took the stage to announce that the PC/Mac game is PS3/PS4-bound.
The company has made no secret of their console ambitions. This past December, Blizzard chief creative officer Rob Pardo said that the console version was already operational. Metzen reiterated that point today, saying that the game is already running on PS3.
Diablo 3 was released last summer on PC and Mac. In the hack-and-slash game, players face off against the armies of Hell. They can play by themselves or with up to three friends online.
The exact features of the PS3/PS4 Diablo 3 were skimmed over. The user interface obviously needs to be altered a bit to fit the gamepad experience. Furthermore, players will be able to directly control their character rather than pointing and clicking. I'm curious to see whether the console edition will feature the gold-based or real-money auction houses of the original version, and whether it will support cross-platform play.
Metzen says that they'll show off the console Diablo in the coming months. He specifically mentioned PAX East, a convention being held in late March.
Staff Writer at CinemaBlend.
Your Daily Blend of Entertainment News
Thank you for signing up to CinemaBlend. You will receive a verification email shortly.
There was a problem. Please refresh the page and try again.