Doctor Who Invades Minecraft On Xbox 360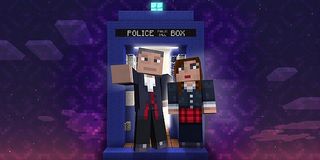 If you have an Xbox 360 and you play Minecraft, I need you to listen to me very carefully: Don't blink. Whatever you do, don't blink. Just boot up your console, head on over to the Xbox Marketplace and download the first batch of Dr. Who skins for your world-building game but, most importantly: Don't. Blink.
Yes, boys and girls, the good Doctor has arrived in Minecraft, but only if you happen to be playing the game on the Xbox 360. Eventually, more than 50 characters from the popular TV show's past will be made available, starting this week with Skin Pack 1 (a name that, when you think about it, is actually rather disturbing).
If you've somehow managed to miss out on the Dr. Who craze, it's a long-running BBC series about an alien (who looks quite a bit like us save for the fact that he has two hearts) who is able to travel through space and time in a blue police box, because why not? The Doctor is awful fond of Earth and has basically named himself the planet's official guardian, protecting it from all sorts of baddies seeking to enslave its people or destroy it entirely for no good reason.
In his quests, the Doctor typically picks up a companion or two; kind-hearted humans who go on adventures and help him save the day. It's really quite lovely and, at this point, I think a huge chunk of the series is on just about every streaming service known to man, so maybe get with the program and enjoy a fun sci-fi romp, yeah?
As you'll see from the above trailer, the Doctor's travels have brought him to a slightly unexpected realm this time around. It's one full of blocky landscaped, blocky people and blocky baddies. Yay, Minecraft!
Announced via Xbox Wire, the first batch of Doctor Who skins hit the massively popular (and now owned by Microsoft) Minecraft, offering up a wide variety of enemies and allies for players to run around as.
This first skin pack includes characters like Doctors One, Four, Six, Nine, Eleven and Twelve, The War Doctor, the lovely Clara Oswald, the well-meaning Rory Williams, the reining champions of staring contests, the Weeping Angels, the Snowman and the Smiler.
Per usual, you won't be asked to fork over an arm and a leg for you Minecraft DLC, though I imagine licensing has something to do with this pack being just a little bit higher than some of the others. You can grab it now for just $2.99, only for the Xbox 360. According to the announcement, word is coming down the pipeline for Doctor Who news on the Xbox One edition of the game, so stay tuned for more details.
Your Daily Blend of Entertainment News
Staff Writer for CinemaBlend.