Double Fine Studio Raises $800,000 In One Day For New Game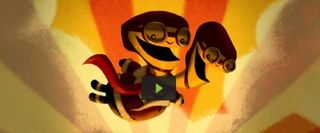 Gamers obviously know what they want and who they want it from. Tim Schafer and crew at Double Fine Studios and 2-Player Productions used a KickStarter program fuelled and funded by the community to develop their latest point-and-click adventure game for the modern age. Within just a few hours of starting the campaign they raised more than $320,000.
According to GameIndustry.biz, Schafer and crew will use anything over the $400k mark for better gameplay support and localization in other languages. The goal was to raise $400,000 by March 13th of next month, but within hours of using KickStarter, the campaign had already garnered 6,888 contributors, within eight hours of starting the campaign they had already surpassed the $400k mark. They're now close to $1 million dollars with more than 20,000 community supporters.
Schafer stated that...
'Pay for what you want' is kind of the motto behind the KickStarter program, a portal that directs the gaming community to help fund the projects they want to see and play for a budget that they feel is appropriate to the developers. It's a great way to counter the time and energy wasted by developers begging publishers and investors for money, something Schafer recently lambasted in an interview. Also, you know exactly what you're getting in the game and paying for the experience you want. I definitely don't disagree with this method of getting projects developed.
What's more is that Schafer doesn't just want to take your money and run. He wants to show gamers the development and design process every step of the way. For those who pledged $15 or more to the game, you'll have complete insight into that process...
Thank you!
Oftentimes I've been itching to ask publishers for financial and accounting sheets showing exactly where these $10 million, $20 million, $50 million and $100 million dollars go when supposedly making these AAA games, because a lot of times I just don't see where the money went when actually playing the game. I'm glad Schafer is honoring those who pledged money to the game by opening up the design process a bit more to transparently show how and why a game costs what it does to make.
You can learn more about Double Fine Productions' new point-and-click adventure game by visiting their KickStarter page.
Staff Writer at CinemaBlend.
Your Daily Blend of Entertainment News
Thank you for signing up to CinemaBlend. You will receive a verification email shortly.
There was a problem. Please refresh the page and try again.