Dragon Age II Screenshots Arrive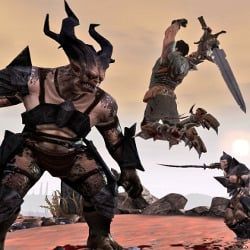 Today BioWare revealed the first two screenshots for Dragon Age II. They offer a taste of the "new visual style" the sequel's said to have.
The two shots show protagonist Hawke locked in battle in a desert. Hawke can only be human - sorry, dwarf and elf fans - so it makes sense that he'd be more detailed as a result of the customization options being narrowed. The environment and enemies aren't quite so polished, unfortunately. The ogre, for example, looks pretty much the same except that he's wearing slightly less clothing.
The screenshots come from Game Informer. They've got a cover story on DA2 in their upcoming issue so these two pictures were just a tease on their part. Perhaps the full story will carry additional screenshots that prove the hero's not the only pretty thing to look at.
Staff Writer at CinemaBlend.
Your Daily Blend of Entertainment News
Thank you for signing up to CinemaBlend. You will receive a verification email shortly.
There was a problem. Please refresh the page and try again.