Dragon's Crown Leads The Charge On PSN This Week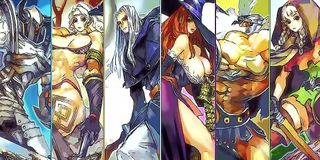 Summer vacation comes to an end this week, which is kind of a bummer considering the fact that a bunch of new games are releasing just in time for everyone to have to turn off their consoles and head back to school. But when you aren't too busy with homework and extracurricular activities, maybe you'll find time to fire up Dragon's Crown the headlining title arriving on the PlayStation Network and in stores this week.
Having received more than its fair share of attention due to a preposterously proportioned character or two, I doubt anyone will be worrying too much about what the characters of Dragon's Crown look like once they finally get to play the game. I enjoyed some hands-on time with the game at E3 and walked away feeling very optimistic about what this side-scrolling beat-em-up had to offer. Now everyone will be able to get in on the action as Dragon's Crown brings its unique blend of old school gameplay and new school tweaks to both the PlayStation 3 and PlayStation Vita. Dragon's Crown will be available in both physical and digital formats but, unfortunately, it will not be one of the much-loved Cross-Buy offerings. With up to four-player combat, however, the beautiful graphics, RPG systems and satisfying dungeon crawling should keep players entertained no matter which platform they pick it up for.
Next up on this week's The Drop is the third game in the PSN Play promotion, Ibb and Obb. While Sony continues its celebration of new games to cap off the summer, player can pick up this two-player platform puzzler in order to enjoy a mind-bending good time with a friend. Plus members can also receive a tidy discount if they pre-order the game before Tuesday's store update goes live, and anyone who pre-orders will receive an exclusive PS3 theme as an added bonus.
Creating a surprising amount of buzz across the message boards, Superfrog HD is also arriving during this week's Drop, a cross buy, cross play HD remake of the 2D platforming classic originally released in 1993 for the Amiga.
From old to new, tomorrow's update will also feature the latest game in the storied Tales game series, Tales of Xillia, offering JRPG fans plenty to get excited about with brand new characters, a brand new epic story and a massive landscape to explore.
Finally, the whole shebang is rounded out tomorrow by the PlayStation 2 Classic, The Red Star, a naval battle game that sees the player struggling for control of 50 districts on a quest to conquer the world while dealing with a few obstacles along the way.
Look for all of that, along with a healthy helping of DLC, videos and the like, once the PlayStation Network updates Tuesday afternoon.
Your Daily Blend of Entertainment News
Staff Writer for CinemaBlend.