Dynasty Warriors Gundam 3 Coming This Summer For Xbox 360 And PS3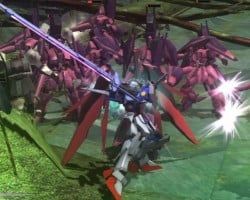 Did you really think Tecmo Koei and Namco Bandai was really going to let all you hungry hack-and-slash Gundam fans sit around twiddling with your thumbs while games like Dynasty Warriors Online and Dynasty Warriors 7 soaked up sales? Of course not. Koei and Namco have banded together once again to offer gamers another gun-blasting and sword-swinging action adventure title with everyone's favorite 100 ton mecha-behemoths.
As stated in the press release…
New Gundams aren't the only new additions to DW Gundam 3…there are also new combat mechanics, including Partner Strike, Emergency Dash and Recovery Gauge Systems. Partner Strike is like a buddy-up call-in feature that lets players request help from friends on the battlefield. The Emergency Dash lets players zip across battlefields to get out of a tight bind and the Recovery System works like an instant health function.
New facilities have also been implemented that add specific boosts and abilities after they have been captured, which gives players new incentives for using a little bit of strategy during combat. Dynasty Warriors Gundam 3 is set for release on the Xbox 360 and PS3 this summer. You can learn more about the new game by paying a visit to the Official Website.
Staff Writer at CinemaBlend.
Your Daily Blend of Entertainment News
Thank you for signing up to CinemaBlend. You will receive a verification email shortly.
There was a problem. Please refresh the page and try again.