E3 2014: Titanfall's Marked For Death Might Be The Best Mode Yet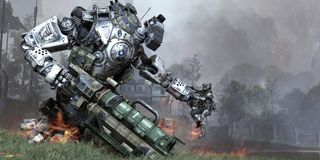 The grandiose display of the E3 show floor is anything but underwhelming. Bright lights showcase the leading titles and booming noises attract industry folk and fans from across the halls. It's the time to get some hands-on time with newly announced games… and yet the title that kept me coming back for more was a title that's already been released.
Respawn Entertainment's Titanfall showed off part of its new June update at E3 this past week, including a new game mode called Marked for Death. This new mode takes a classic 6v6 and turns it into a fast-paced heart-wrenching fox hunt that left me feeling like an adrenaline junkie.
At the start of the match one random player is "marked for death" on each team, creating a target icon over each one. The objective of each team, then, is to kill the opposing team's marked player. Points are awarded for kills, taking out the team's opposing mark, or guarding your own. Once a mark is killed, the marks will randomly select new players on both teams.
This style of gameplay, while seemingly simplistic on the surface, adds a multitude of ways to strategize the manner in which your play. With your team, you can choose to pursue the opposite mark or go on the defensive and protect your own. As the mark, you can choose to run away or try to end your anxiety yourself by killing the other team's mark.
Overall, this is a surprisingly refreshing experience for Titanfall. It may replace Hardpoint Domination as my favorite mode. Hunting the mark is an exhilarating experience perhaps only one-upped by the thrill of being marked for death. Titanfall is already an absurdly fast-paced title--but this mode is bringing even more intensity and fun to it.
The free June download will also include Wingman Last Titan Standing. It's same as the usual Last Titan Standing mode except with 2v2 instead of 6v6. It seems perfect for players looking for a duel rather than a battle royale.
The update brings smaller additions as well. Players will be able to unlock burn cards for Titans (amped weapons, etc.) along with decals. They can also select new voices for announcements. It's a lot of content for an update that won't cost players a dime.
Katy Goodman is a freelance writer and graduate student in English. When she isn't busy training birds of prey, horses, or freshman composition students, she can be found playing video games or climbing trees. She also really likes grilled cheese. Follow her on Twitter @InvizzyB or on her blog, Pixel Hearts.
Your Daily Blend of Entertainment News