El Shaddai: Ascension Of The Metatron Breathtaking Debut Trailers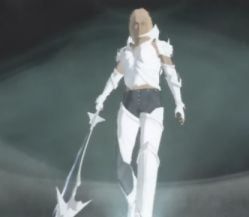 The book of Enoch was one of the coolest books of the Bible no one ever got to read in the original KJV. Nevertheless, Ignition Entertainment is taking the missing book of Enoch and turning it into one kick-butt game called El Shaddai.
The book of Enoch is originally what spawned great works like The Divine Comedy, and subsequently, Dante's Inferno. The new game based on the book follows Enoch's journey to bring back the soul's of the original Fallen Angels whose actions ultimately resulted in the great flood.
The game itself is an amazing mixture of platform action, melee combat and adventuring. It's not just that it's a typical epic-journey action game it's that El Shaddai has some of the most breathtaking environments and visual effects featured in a recent console game. In a way, the game is almost reminiscent and shares some presentation qualities similar to Valkyria Chronicles.
You can check out the two new debut trailer for El Shaddai: Ascension of the Megatron below or visit the Official Website to learn more.
Staff Writer at CinemaBlend.
Your Daily Blend of Entertainment News
Thank you for signing up to CinemaBlend. You will receive a verification email shortly.
There was a problem. Please refresh the page and try again.