Fallout 4 Announcement Coming Tomorrow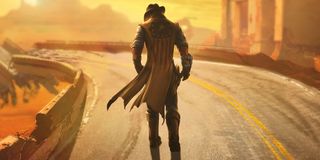 Bethesda might not wait until their E3 press conference to announce Fallout 4. They've got a new countdown going on the official Fallout website that will end in a matter of hours.
The teaser site is merely a gray test card that says "Please Stand By" followed by a ticking timer. The countdown beneath that text will end at approximately 10 AM Eastern on Wednesday. The logo for Bethesda Game Studios, developer of Fallout 3 and presumably Fallout 4, is at the bottom of the page.
Once the timer runs out, I suppose we'll be treated to the first trailer for Fallout 4. Maybe we'll get to see that cinematic trailer supposedly made by Guillermo del Toro's company?
I'd expect that Bethesda will use the reveal to hype up their E3 press conference on June 14th. A report published last month said that 20-30 minutes of Fallout 4 gameplay footage will be shown off at the event. Bethesda is bound to announce or preview other games during that event so promising Fallout 4 details is a great way to ensure that as many people watch the event as possible and give those other products some attention.
It's natural that some people will be skeptical of this teaser. After all, there have been plenty of Fallout 4 hoaxes over the past few years. However, this teaser is on the official Fallout website so it's an actual announcement by Bethesda. Also, if you try to visit Bethesda Blog or ElderScrolls.com, you'll be forwarded to the teaser page so it's clear this is something big like a game reveal.
The only possible details we know about Fallout 4 come from an alleged leak in 2013. Casting documents alleged that the game takes place in the Boston area. That region reformed as the Commonwealth after the nuclear apocalypse of the series' alternate history. The player character allegedly wakes up from a cryogenic sleep at the outset of the campaign.
It's been seven years since Fallout 3 and five years since Fallout: New Vegas so we're overdue for a new Fallout game. I hope that Bethesda's announcement can live up to the absurd levels of anticipation built up over that time. I also hope that the release window they announce isn't too far off.
This poll is no longer available.
Staff Writer at CinemaBlend.