Far Cry 3 High Tides DLC Arrives On PS3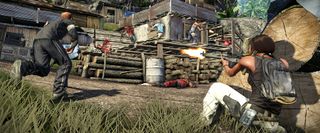 Today PS3 gamers received exclusive downloadable content for Far Cry 3. The High Tides DLC, adding new content for the co-op campaign, can be downloaded through the PlayStation Network for no charge.
High Tides adds two new story chapters for co-op for a total of nine new missions. In these chapters, Hoyt's forces have captured the four characters and imprisoned them underground. Players must escape the prison and find a way off the island.
The DLC pack also includes character skins. The press release says that it includes "four character skins for Mikail, Callum, Tisha and Leonard." I'm not sure whether that means four for each character or one for each. Probably the latter.
Though High Tides was announced as a PS3 exclusive, there's a chance it might come to the PC. Xbox 360 gamers shouldn't hold out much hope, though.
Image 1 of 4
Your Daily Blend of Entertainment News
Staff Writer at CinemaBlend.
Your Daily Blend of Entertainment News
Thank you for signing up to CinemaBlend. You will receive a verification email shortly.
There was a problem. Please refresh the page and try again.