Final Fantasy X/X2 HD Remaster Heading To U.S. Vitas And PS3s This Year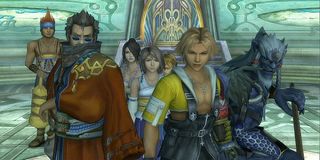 That sound you just heard was the collective squeal of RPG fans the world over as Final Fantasy X/X-2 HD Remaster has finally been officially revealed. One of the most beloved games in the storied franchise is headed to PlayStation 3 and PS Vita and, yeah, it looks pretty dang gorgeous to boot.
Despite the underwhelming showing from Square Enix at the recent PlayStation 4 reveal event, showing off a tech trailer that was a year old and simply saying that more Final Fantasy news was on the way, you can't help but feel a little bit spoiled right now if you're a fan of the series. Not only is a brand new game for the series, Lightning Returns: Final Fantasy XIII, and a rebooted MMO Final Fantasy XIV: A Realm Reborn, coming down the pipeline, but now we're getting our first look at an HD-ified classic and its not-quite-so-classic sequel. And keep in mind that FF fans were told to be excited for this year's E3, so there might be even more news coming in early June.
The news about Final Fantasy X/X-2 HD Remaster came in the form of a very brief post over on the PlayStation Blog this morning.
"Around 10 years ago, I was given the privilege of taking on the role of Producer for Final Fantasy X and Final Fantasy X-2," said Yoshinori Kitase. "Just in time for PAX East, I am excited to announce that Final Fantasy X/X-2 HD Remaster will be coming to North America this year for PlayStation 3 and PS Vita."
And, in traditional Square Enix form, that was about it. But do we really need any other details at this time? The games is coming to the U.S. later this year and, from the few screenshots that are available, it looks pretty dang lovely. That should be enough to tide us over for the time being.
Staff Writer for CinemaBlend.
Your Daily Blend of Entertainment News
Thank you for signing up to CinemaBlend. You will receive a verification email shortly.
There was a problem. Please refresh the page and try again.