First Taste of Survival Horror for the DS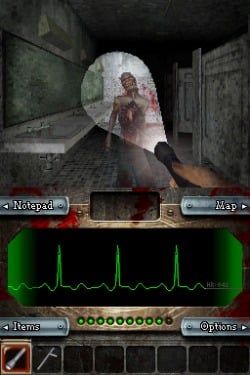 The first bout of survival horror on the Nintendo DS has received its haunting release info. The official date for Dementium: The Ward to hit stores has been announced as October 31st, and it is indeed shaping up to be more of a treat than a trick. The game has been described as a mash-up of Doom 3 and Silent Hill. The game does in fact take place in a hospital, so hopefully it is not too much like Silent Hill (which might not be a bad thing anyway).
Using the stylus and the D-pad, players will run-and-gun their way through the halls of the hellish institution, searching for clues, tools, and weapons to annihilate its ghoulish inhabitants. All the action takes place on the top-screen, while the health meter and inventory control - as well as aiming - are taken care of on the touch screen. The producers of the game, Gamecock Media Group, have this bit of info about the game:
Dementium: The Ward combines action-adventure, first-person shooter and survival horror into one nightmarish experience. Pushing the limits of the Nintendo DS with full 3D visuals, this "next generation" title will set the bar for mature handheld games.
Dementium tells the tale of a man who awakens to find himself alone, with no memories of his past, in a mysterious, derelict hospital that is frozen in time. Confronted by the deadly, grotesque surgical experiments that wander the halls, a series of challenging puzzles and a cast of peculiar characters, he must face his deepest fears, unlock the mysteries of the hospital, and escape with his life. A completely new experience on the Nintendo DS, Dementium promises to creep you out with gory visuals and bone-chilling audio that brings the world screaming to life.
The game can be pre-ordered now, so watch out for horrific thrills and chills this Halloween, when Dementium: The Ward hits store shelves, and don't forget to check out the E3 interview for even more demented info.
Your Daily Blend of Entertainment News