Forza Horizon 2 Xbox One Demo Dated, Achievements Listed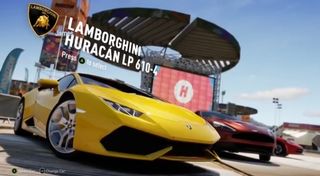 The upcoming Forza Horizon 2 will have a playable demo made available before its release, giving gamers an opportunity to scope out the gameplay and some of the features as a bit of a taste of what's to come. If you were on the fence about the game the demo could sway you over to the side of being a day-one buyer, or it could turn you off completely, but at least you'll have the option to test the game before you purchase it.
The Box Hub is reporting that the demo for Forza Horizon 2 will be available starting September 16th. This arrives just two weeks ahead of the game's September 30th release date.
The demo will allow players to take hold of a few different cars and explore southern Europe. The actual cars or track details weren't specified but I'm pretty sure that it's going to be similar to what was available for gamers to play at this year's GamesCom in Cologne, Germany. For those of you who don't know what I'm talking about, you can check out the gameplay demo in the video below, courtesy of YouTube outlet TheCreatureHub.
If the gameplay seems a little jarring from the typical Forza experience that's because Forza Horizon is an arcade game. The title doesn't feature the same level of customization or in-depth gear-head mechanics that the other Forza titles sport, as players of any racing caliber and skill level are supposed to be able to dive into Forza Horizon without having to worry about the learning curve preventing them from having fun. Hence, that's why the game has all the off-road driving in the expensive super sports cars and negligible collisions that do little more than slow you down during the race. Think of it as an Xbox exclusive version of Need for Speed.
One of the core mechanics of the game is the Drivatar, enabling players to race against their friends even when they're not online. Given that the game is an MMO and that MMOs rely heavily on player interaction, the Drivatar will help balance the game when your friends, rivals or family aren't online but you still feel like racing against them. This mode is further made for the convenience of entry-level players by allowing gamers to rewind any moment during a race, so you can practice and perfect your driving skill against Drivatars before going head-to-head against other, real-life players.
In addition to news about Forza Horizon 2 having the demo dated, Microsoft also sent out a complete list of the game's Achievements, accounting for up to 1000 points in Gamerscore.
You can check out the Achievements list below . Forza Horizon 2 is set for release on September 30th for the Xbox 360 and the Xbox One. You can learn more about the game by paying a visit to the official website.
? Welcome to Horizon Europe – Arrive at the Horizon Festival (10GS)
? First of Many – Win your first Championship race (10GS)
? Rain Master – Complete your first race in the rain (10GS)
? Wanderlust – Complete a Road Trip (10GS)
? Number One – Win a Championship (10GS)
? Multi-Disciplined – Win an Event in every type of car (10GS)
? The Train's in Vain – Beat the Train in a Horizon Showcase Event (10GS)
? Welcome to Castelletto – Arrive at Castelletto for the first time (25GS)
? Welcome to Nice – Arrive at Nice for the first time (25GS)
? Welcome to Sisteron – Arrive at Sisteron for the first time (25GS)
? Welcome to Montellino – Arrive at Montellino for the first time (25GS)
? Welcome to Saint-Martin – Arrive at Saint-Martin for the first time (25GS)
? Welcome to San Giovanni – Arrive at San Giovanni for the first time (25GS)
? Horizon Champion – Become the Horizon Champion (50GS)
? Horizon Leader – Choose where the Road Trip goes for the first time (20GS)
? Horizon Fan – Complete 25 Championships (20GS)
? Horizon Enthusiast – Complete 100 Championships (25GS)
? All Your Race Are Belong To Us 2.0 – Complete all 168 Championships (50GS)
? Yellow Wristband – Obtain the Yellow Wristband (10GS)
? Green Wristband – Obtain the Green Wristband (10GS)
? Pink Wristband – Obtain the Pink Wristband (20GS)
? Purple Wristband – Obtain the Purple Wristband (30GS)
? Gold Wristband – Obtain the Gold Wristband (30GS)
? That New Car Smell – Buy your first car (10GS)
? Car Lover – Have 50 Cars in your Garage (20GS)
? Worthy of a Sultan – Have 175 Cars in your Garage (40GS)
? License to Skill – Earn 5 Skill Points (10GS)
? Stone Cold Skiller – Earn 65 Skill Points (20GS)
? Summer Sale – Smash 25 Reward Boards (10GS)
? Smash Happy – Collect all Reward Boards (20GS)
? Bragging Rights – Beat Friends or Club members on any 20 Speed Cameras (10GS)
? A Wild Drivatar Appears! – Win 3 Head-to-Head Races against Drivatars with a Bounty on them (10GS)
? Kick the Bucket – Scratch 15 items off your Solo Bucket List (10GS)
? Rest in Peace – Complete every Solo Bucket List Challenge (20GS)
? Friends with Benefits – Earn a total of 1,000,000 Cr from Rivals (10GS)
? Loyal – Earn 500,000 XP for your Club (25GS)
? Human GPS – Drive down every road in the game (10GS)
? Photographer – Take photos of 100 different cars for Horizon Promo (20GS)
? Storage Hunter – Restore 10 Barn Finds (20GS)
? Social Caterpillar – Compete in 20 Multiplayer Events (10GS)
? Social Butterfly – Compete in 200 Multiplayer Events (50GS)
? On the Road Again – Complete an Online Road Trip location (10GS)
? Well Travelled – Complete 25 Online Road Trip locations (30GS)
? Yes We Can – Complete 25 Bucket List items co-operatively (30GS)
? Fast and Clean – Earn the Clean Racing Skill 100 times (10GS)
? Team Player – Win 50 Team Events (30GS)
? You Are Playground Games – Complete 100 Playground Games Events (40GS)
? We Meet Again! – Win a Showdown at every Car Meet (20GS)
? Super Meet Boy – Grab a livery, grab a tuning setup, buy a car, and enter a Showdown at any Car Meet (10GS)
? One Down! – Complete a Solo Bucket List challenge (10GS)
Your Daily Blend of Entertainment News
Staff Writer at CinemaBlend.