FragFX Shark, Barracuda And Piranha Arriving For PS3 And PC In November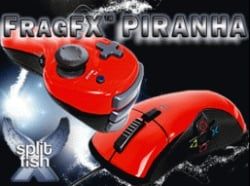 The multi-platform wireless (and wired) energy-saving controllers from Splitfish will be released just in time for Activision's Call of Duty: Black Ops. The controllers, designed for enhanced first-person shooter combat and tactics, are perfect for uber-hardcore gamers looking to add a little extra style to their controller convenience.
Werner Demetz, Splitfish president commented in the press release, saying…
50 freaking hours? Seriously? That seems to defy the laws of battery-company-consumerism. I mean, a lot of people will be getting in some major game time without having to replace those double As. Not that I'm complaining.
Anyway, the Shark will retail for $89.99. The Barracuda will carry a $69.99 price tag on it. And the Piranha will be available for the stylishly affordable price of $49.99. And remember, all three units will be available starting November 1st, for the PS3, PC and Mac.
For more info on the FragFX Shark, Barracuda or Piranha, be sure to visit the Official SplitFish Website.
Staff Writer at CinemaBlend.
Your Daily Blend of Entertainment News
Thank you for signing up to CinemaBlend. You will receive a verification email shortly.
There was a problem. Please refresh the page and try again.