GRID 2 Release Date Scheduled For May, Special Editions Detailed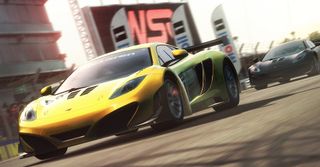 Codemasters confirmed today that their racing game GRID 2 will be hitting stores on May 28th. They also announced a couple Special Editions exclusive to GameStop and Best Buy.
Pre-ordering GRID 2 at GameStop will get you an automatic upgrade to the Turbo-Charged Edition. This includes two DLC packs. The McClaren Racing Packs unlocks the McLaren MP4-12C GT3 Special Edition for use in single-player, multiplayer and an exclusive online event. It also adds two routes to the Brands Hatch GP circuit. The GTR Racing Pack provides access to the Nissan GT-R SpecV road car, as well as five routes at the Yas Marina circuit.
Best Buy customers, meanwhile, get access to the IndyCar Edition. The included DLC pack unlocks the Dallara IndyCar and the IndyCar Pace car for use both online and offline. It also gives players access to two additional routes at the Indianapolis Motor Speedway Oval Circuit.
These special editions are available on the Xbox 360, PS3, and PC. The bonus content won't actually ship with the game itself. Instead, players will get a download voucher.
To judge the value of the special edition DLC, check out the screenshots below.
Image 1 of 10
Your Daily Blend of Entertainment News
Staff Writer at CinemaBlend.