GTA 5 Online Patch 1.1 Resets Player Rank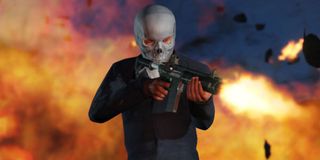 Some GTA 5 players have encountered an issue with Title Update 1.1. A bug in the patch reset their progress in GTA Online.
"After the update, and the problems known to your cloud server, my rank has been reset to level 1. GTA Online has loaded the initial tutorial and saved my profile. I opened a support ticket a week ago but I have not had an answer nor a solution," a player said on the Rockstar support site. Numerous other players chimed in on the thread with similar complaints. The bug seems to affect both PS3 and Xbox 360 owners.
A Rockstar staffer responded to the complaints by giving out Reputation Point boosts. They then had to reboot their console and log in with the character they wanted to receive the boost.
"Once you gain the RP boost and play in free roam for some time (usually 15-30 minutes) you will get back your unlocks and be able to access your previous assets, such as houses and cars."
GTA Online characters won't appear if the cloud servers are down. However, if you go back to single-player campaign and return to multiplayer when the servers are up, your characters should return with their progress intact. Whenever you want to log out of GTA Online, Rockstar encourages you to exit to story mode to trigger a save before you turn off your console. Otherwise, your recent purchases or unlocks might not be preserved.
If you're affected by the bug, Rockstar encourages you to submit a request. You'll have to provide your Gamertag or PSN ID, the date and time of the problem, and a description of the progress you lost. Judging by the posts on the support thread, it could take several days for Rockstar to fix the issue. Probably wouldn't hurt to post on that thread in addition to submitting your request.
Patch 1.1 went live last week. The title update fixes duplicate vehicle and RP exploits along with several bugs. Players have since another glitch to make money but Rockstar's currently cracking down on any exploiters they find. The patch also reintroduces the Rat Loader truck to the game. The truck and its mods are free until the next patch is released.
The title update was accompanied by new Valentine's Day Massacre content. Players can now dress up like gangsters and flappers and run amuck with old-timey limos and Tommy guns. These items can be unlocked in single-player or multiplayer until the end of February. Once you've acquired them, though, they're yours to keep.
Staff Writer at CinemaBlend.
Your Daily Blend of Entertainment News
Thank you for signing up to CinemaBlend. You will receive a verification email shortly.
There was a problem. Please refresh the page and try again.