GTA IV: The Lost And Damned Screenshots Show Niko Bellic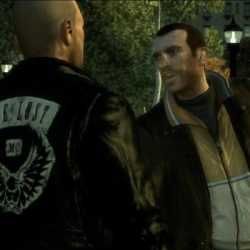 The Lost and Damned, the Xbox 360 expansion to Grand Theft Auto IV, doesn't star GTA IV protagonist Niko Bellic but don't worry, he'll still be around. New screenshots from the expansion prove that everyone's favorite Eastern European gangster will at least make a couple cameos.
The two screenshots, first found on Eurogamer.pt, show Niko talking with Johnny Klebitz, a member of the motorcycle gang "The Lost" and the star of The Lost and Damned. "The Lost" appeared in at least a couple missions of GTA IV so perhaps we'll see moments from the retail game replayed from Johnny's perspective.
Usually the main character of GTA games is a fairly nondescript tough guy but Niko really was an entertaining guy so it'll be nice to see him again. The Lost and Damned will be available for download on February 17th for $20.
Staff Writer at CinemaBlend.
Your Daily Blend of Entertainment News
Thank you for signing up to CinemaBlend. You will receive a verification email shortly.
There was a problem. Please refresh the page and try again.