GTA V Screenshots Scale Vinewood Sign, Shows Off New Weapon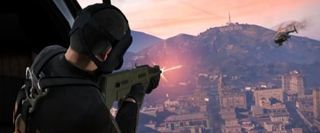 Rockstar has a few more screenshots on display for gamers, including a look at a parachuting venture down to a train, as well as cops giving chase to one of the protagonists as he aims to scale the Vinewood sign in order to get away from the very armed and very dangerous cops.
The last week was basically Rockstar dropping enough information to make every gamer's jaw drop to the floor. We've been scrapping up our bottom lips over the weekend, yet today we have our jaws firmly planted on the floor once again.
The new shots are more of an extension of what Rockstar let loose last week in the Game Informer exclusive. We get to see more of the helicopter chase, a brand new shot of what looks like a mix of a Kriss Super V and a SAR 21 assault rifle, but knowing Rockstar the gun is a fictional recreation of a weapon based on a real-life rifle. It's hard to tell exactly given the angle of the shot.
Anyway, the rest of the screens are just an amalgamation of excitement waiting to be unbottled. There's a really beastly looking vehicle in the back of the one shot where Trevor is walking down the street, it appears to be a street version of a dune buggy or hotrod of sorts, and there's also a nice look at the industrial zone in the one shot with the helicopter flying around during a pre-dusk sunset.
We'll be able to see a lot more when Rockstar unveils the second trailer for Grand Theft Auto V this week, which is sure to steal a lot of the thunder away from the launch of Call of Duty: Black Ops II.
GTA V is set to launch next year during the spring for home consoles.
Image 1 of 10