Get A Brief First Look At Jason In New Footage From Friday The 13th: The Game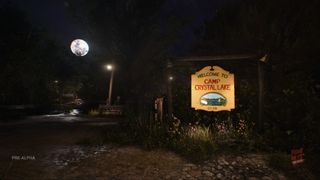 There's been a little bit of a trend happening in a small corner of the horror gaming universe whereas slashers that borrow from great classics like Friday The 13th have made their way into gaming. And with Friday The 13th: The Game hoping to release in October, we have finally gotten a very short glimpse into the very real fear of Jason's presence riddled with the tension of a classic slasher horror movie.
The official Twitter page for the game posted the 15-second video, which just barely gives us a peek into what it's like to hide from Jason in-game. Before the video finally cuts out, Jason can be seen busting through the door, as he has done so many times in the horror movie franchise.
If you were a fan of Until Dawn and enjoyed movies that mocked the genre, like The Final Girls, then you'll probably have high hopes for Friday The 13th: The Game. The game was originally funded through a Kickstarter campaign back in October of last year and easily rolled past the $700,000 funding goal.
While the game is expected to release in every horror game's favorite month, October, there is yet to be an official release date. For more information, you can check out the official website for the game.
Your Daily Blend of Entertainment News
Thank you for signing up to CinemaBlend. You will receive a verification email shortly.
There was a problem. Please refresh the page and try again.