God Of War: Ascension Multiplayer Beta Open To Everyone Through Holiday Weekend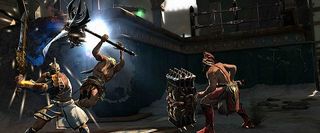 In case you don't already have plans for the holiday weekend, the folks over at Sony Santa Monica Studios are hoping you'll decide to just stay home, curl up on the couch, download a special access pass to the God of War: Ascension multiplayer beta and help the developers stress test their upcoming brawler through Monday evening.
Headed into this weekend, the Ascension beta was only open to those with a PlayStation Plus subscription. For a very limited time, however, the online kill-a-thon is being opened up to the masses as a special celebration for the extra long weekend. Announced through the PlayStation Blog, PlayStation Public Relations Manager Aram Jabbari said in the comments section that the plan is to keep the beta open to everyone through midnight on Monday evening. If you have the day off, that leaves you with (checks watch) about 36 hours in which to pulverize your fellow gamers in a quest to impress the gods of Olympus.
In order to get into the limited access beta, you need a PS3 and a legit U.S. account. If you've got that, all you have to do is head into the PlayStation Store, click on "Redeem Codes," and input the following universal voucher: F2TA-HMNB-762G.
Again, you'll want to act fast if you want to get the most out of this special access, as your time will expire late tomorrow night. In the beta, you'll have access to the Zeus and Ares factions with Hades and Poseidon to be added when the actual game launches. Playable modes include 8-player Team Favor of the Gods (deathmatch) and Capture the Flag, as well as 4-player free for all and open Favor of the Gods. Keep in mind that Ascension puts a unique spin on its gameplay, so killing dudes isn't the only way to earn points. Chests will randomly spawn across the map, which also grant your team favor. Some maps have control points available, or special objectives, that increase your teams favor as well. So, in short, have fun experimenting.
The beta includes a pair of maps, the big Desert of Lost Souls and the intimate Forum of Hercules. There's also a level cap of 30 (good luck reaching that in a day) and a veritable treasure trove of weapons, armor, magic, relics and more to unlock.
At this point, you should probably stop reading and boot up the ole' PS3, yes? You don't want to waste anymore of your very limited time in which to check out the God of War: Ascension multiplayer beta.
Your Daily Blend of Entertainment News
Staff Writer for CinemaBlend.