God Of War III To Have Co-op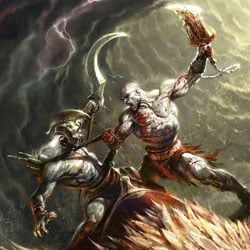 With the God of War Collection releasing on the PlayStation 3 this Tuesday, it's little surprise that new information on God of War III is suddenly flooding the net. However, there's a great deal of rumors, too. The latest juicy tidbit to reach our ears is that online co-op mode has been announced, seemingly out of nowhere.
According to Nick McCandless at The Gamer Access, the Sony Retail Training site has put up their course for God of War III already. This training site, dubbed Sony RLS, is designed to inform employees of your local gaming outlet about the features and benefits of the games, hardware, and accessories for upcoming Sony products. Luckily enough, I happen to be a part of this community and had the opportunity to take the course myself, and sure enough, there it is, online co-op.
The retail site offers no more insight into the co-op mode, so no details on how many players or what it'll be like. But to anyone who's been following closely, the fact that co-op is suddenly a real possibility is in direct opposition to what the game's director, Stig Asmussen has been saying all along.
"Imagine two Kratos characters running around at the same time. Once you do that, the story becomes something more about an experience between two players and less about something that we're scripting," Asmussen said in an October interview
Didn't sound like he was too keen on the idea. Maybe the co-op mode will only be for the challenge maps we've been hearing about? Could we be looking at a God of War Horde mode? Looks like there's some 'splainin to do. Either way, be sure to check back for more details once they are available, and be sure to pick up the GOW Collection November 17th.
Your Daily Blend of Entertainment News