The Godfather: Blackhand Edition Fact Sheet For Wii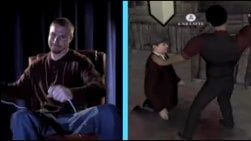 It's March, so that means that The Godfather for the PS3 and Wii are on their way. Each respective rendition of last year's smash hit will feature similar yet different content that will broaden the experience for either Wii or PS3 owners. You can check out the facts for the Blackhand Edition and find out what it takes to rule the streets with an iron fist.
Set to appear on store shelves on March 20th, the Blackhand Edition–as if you really didn't know–will make use of the Wii-mote and Nunchuk. Gamers will be intimidating and knocking the living snot out of mobsters while conservatively trying to avoid knocking over lamps, hitting their dog in the head, or breaking the television with mis-aimed Wii-mote thrusts.
The only major downside to this bigger, better, more well-rounded experience is the fact that you'll be paying $50 more for this game on the Wii, even if you paid that amount last year for the same game on the PS2 and Xbox. But that's EA for you, class-act wallet-rapers. Anyway, below is the fact sheet and a trailer of the game for the Wii.
The Facts For The Blackhand Edition:
•The World of The Godfather, Rebuilt for Next Gen The authentic The Godfather experience reaches a new level on the Wii computer entertainment system with much more content that the current gen version of the game, including new hits, compounds, families, hubs, mini-games and more.
• The Power of Intimidation Wield the power of the BlackHand like never before with new motion-sensing controls, including special Wii gesture-based maneuvers for extra damage.
• Do It Your Way The non-linear action-adventure gameplay features orginial and film-based missions, including all-new missions.
• Develop Your Characters The new RPG system lets you choose your path as an Enforcer for better fighting skills or an Operator with a gift for extorting and influencing others.
• Respect and Consequences Use your powers of loyalty and fear to earn respect. How you go about gaining power - through negotiation, intimidation, or a strategic mix of both - affects how others deal with you.
• More Explosive Action Mafia warfare gets more intense on next gen with new car bombs, hard-hitting Corleone strike teams, and more.
Your Daily Blend of Entertainment News
Staff Writer at CinemaBlend.